American household wealth has hit a historic high, with savings accounts and equity portfolios seeing a big boost from federal pandemic relief and surging stock markets, according to a Federal Reserve report.
The Feds most recent Flow of Funds report, released Sept. 21, provides a snapshot of the wealth and income of U.S. households and nonprofit organizations as of June 30. The report shows that when the second quarter ended in June, household net worth—which is the value of homes, stock investments, and other assets minus whats owed on mortgages and other loans—hit a record high of $118.9 trillion.
The $7.6 trillion jump from the prior quarter also is the biggest quarterly increase in history.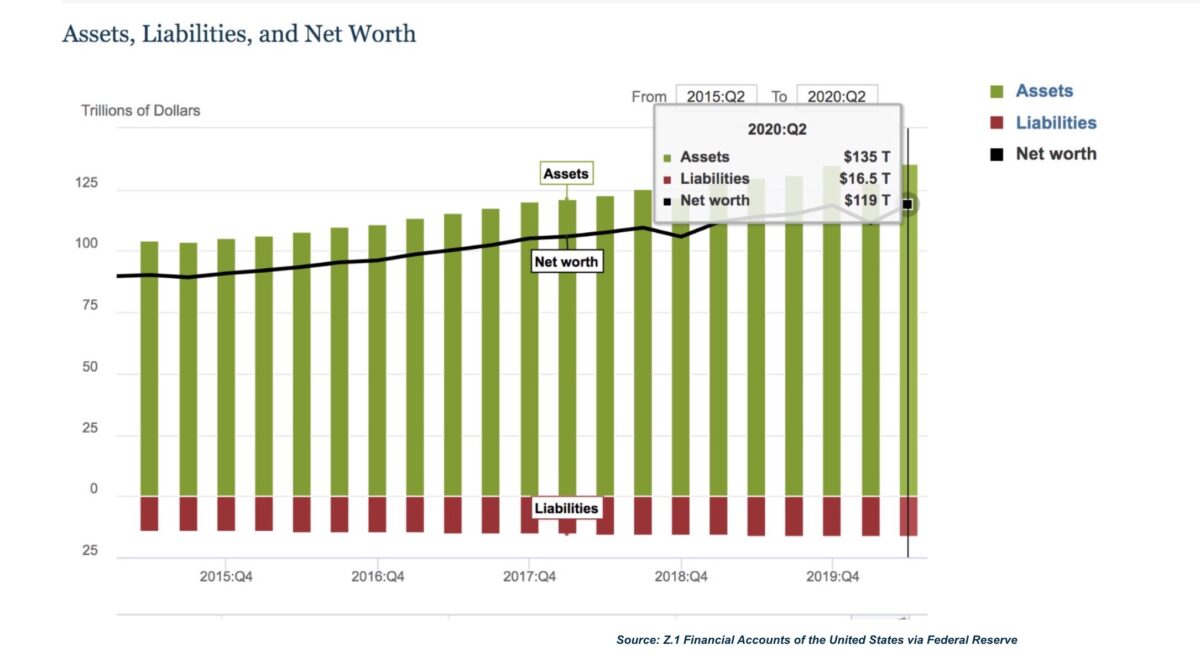 Household net worth at the end of the final quarter of 2019 stood at $118.5 trillion. The outbreak of the CCP (Chinese Communist Party) virus then dealt the U.S. economy a colossal blow, wiping out around $7.23 trillion in the wealth of households and nonprofits—the biggest such quarterly tumble on record.
The wipeout included $8.29 trillion in corporate equity and $492 billion in debt securities, although real estate holdings rose in value by $422 billion.
Beginning in late February, as the CCP virus began spreading rapidly across the world, the benchmark S&P 500 equities index plunged 34 percent in the space of a month, but rebounded quickly and, by mid-August, it had recovered all of its losses. The Fed report shows that, in the second quarter, stocks and mutual funds saw a $5.7 trillion increase in value, debt securities rose by $67 billion, while real estate gained $458 billion.

Wealth also was boosted by a $700 billion increase in savings among households and non-financial businesses, many of which bRead More – Source