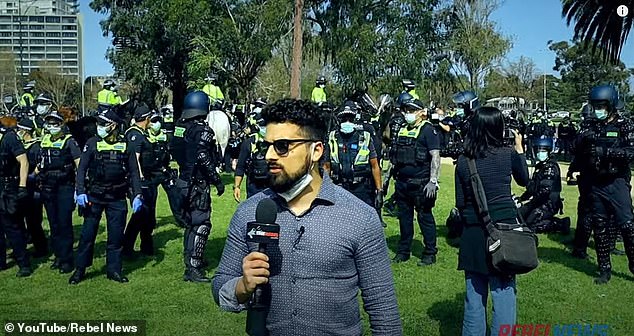 Australian journalist Avi Yemini has attracted over $50,000 in donations to help cover the cost of a lawsuit filed against the Victorian government in the states Supreme Court on Sept. 15.
The fundraiser was launched by his employer, Rebel News, on Sept. 17 and surpassed its $50,000 goal within 6 hours.
Yemini told The Epoch Times on Sept. 17 that he was humbled by the publics response.
"It shows how upset people are with whats happening here in Melbourne," Yemini said.
For the past few months, Melbourne has endured a second wave of COVID-19, the disease caused by the CCP (Chinese Communist Party) virus, commonly known as novel coronavirus.
In response to the outbreak, the state government has enforced strict lockdown rules that have raised concerns around heavy-handed policing, the mental wellbeing of Victorians, and the legality of the curfews.
Read MoreDep. Commissioner Condemns Victoria Police Officer After Stomping Incident6 Month Extension of Emergency Powers Passes Victorian Parliament
Discontent about lockdown measures has grown in recent weeks after the Victorian government extended its emergency powers in September for an additional six months and extended stage four restrictions by two weeks.
On Sept. 5, Melbournians gathered for a rally against the Stage Four lockdown at Albert Park. The gathering was then disrupted by Victoria Police, and Yemini, who was there working as a reporter, was arrested.
Victoria Police confirmed Yeminis arrest in a statement, saying: "A 34-year-old male from Berwick was arrested for hindering police at a protest in Melbournes CBD on Saturday 5 September.
"The man had been asked to move on multiple times by the Forward Commander as he was obstructing the police response to the protest. After repeatedly failing to comply with police direction, he was arrested for hindering police. He was then released with enquiries pending," the statement read.
Yemini denies that he was acting unlawfully and that police did not tell him to move on. He said that his case is clear cut and indicated he is confident that there wasnt much chance of losing.
"The commander initially said he was arresting me because I didnt have a purposeful reason to be there, which was false," Yemini said. "So they changed it to hindering which was just as ludicrous."
Ezra Levant, the publisher of Rebel News, told The Epoch Times the video clearly shows police misconduct.
"The videotape shows that Avi was not hindering any police work; he was with other media, Read More – Source